The Nazis slaughtered people by the millions in concentration camps and yet most who were told of this didn't believe it, or thought the claims were exaggerated, or thought the speaker was ignorant, insane, in denial, lying, crazy and/or stupid.  In the terms of modern times they might have been called 'delusional paranoid schizo'.  (Or 'cray cray' in the technical lingo of NIAAA Chief Dr. George Koob.)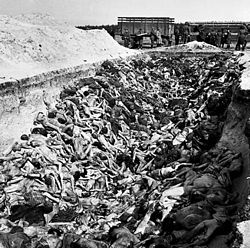 However our collective denial was shattered when pictures of the atrocities appeared in national publications like Life and Time showing vast heaps of emaciated bodies rotting in long wide trenches and towering piles.  These pictures were taken by war correspondent George Rodger, who never fully recovered from the experience. (George Rodger is the father of Peter Rodger and grandfather of Santa Barbara serial killer Elliot Rodger and ABC's Recovery Road star Sebastian DeSouza.)
Modern Day Holocaust
Experts have long known that the risk of death is greatly increased after rehab.  Science journalist Maia Svalavitz claims that Dr Drew's Celebrity Rehab mortality topped 13%.  Ken Anderson recently posted some statistics showing  a shocking increase in death rate within 4 months of leaving 28-day rehab programs:
Well first of all, someone needs to get on the horn with the CDC because I'm no epidemiologist but I can tell a public health crisis when I see it.
Anyhoo…..
What's going on here?  Addiction experts would say there's a 'drug addiction epidemic' and it's a disease and most would have died anyway so 'early intervention' is critical.  But this is easily refuted by the data, which shows a much lower mortality if left untreated.  (In fact, most experts don't think addiction is a disease and most drug users moderate naturally over time.)
Anderson claims the mortality is caused by 'lost tolerance': "Tolerance for opioids can easily increase ten-fold with regular opioid use".  However this claim is completely unsubstantiated and ridiculous.  It is also moot, because as Anderson himself points out, most deaths are due to poly-drug poisoning and massive overdoses that would kill a horse let alone a die-hard addict.  So most of these deaths appear to be intentional suicides (or murders) and yet he's playing into the 'addiction' narrative: "I just wanted to get high but I took a little too much — and what with my lowered tolerance I was done in by my own cravings caused by my disease."
Anderson is an outspoken critic of AA and openly admits to being 'buttraped' by AA and brainwashed into excessive binge drinking.  In fact, he now promotes his own 'harm reduction' program "#trackin", which is keeping track of your binge drinking via tweets, and he binges on 17 drinks (a fifth) once a week.  Of course, this is dangerously unhealthy nor should it be promoted as a treatment for 'alcoholism' by a state-sanctioned 'expert' and yet when this was pointed out to him he responded, "The lesson is that planning leads to great happiness! Sorry you feel the need to put people down for their successes!  You are worse than AA!  I'm blocking you!"
So yes I am baffled, because he himself admits to being insulted and bullied into excessive drinking by AA and yet ignores the possibility that the exorbitant death rate from 28-day rehab is caused by the exact same dynamic (and then hurls an insult at his critic).
To confuse matters further, he recently proposed 'public health policy' that would legalize drugs while teaching people that mixing can cause death.  Of course, this would create a public health disaster, making it even easier for the 12 Step cults to kill people in massive industrial sized quantities, though it seems he has backed down from such insanity.  (His latest proposals seem more reasonable.)
I admit I actually thought he was a good guy a few months ago.  Now I wonder if he's a Manchurian Candidate, programmed by Keith Humphreys, the mastermind behind rehabs.com, to promote a flawed 'harm reduction' agenda and then self-destruct.  I hope his friends see this and intervene.  Not with 'treatment' of course because that's only likely to kill him.  Maybe take him out to lunch or the movies – set up a regular schedule, he seems to like that.
And yet at the same time he's the one pointing out the crisis!  Which is of course certain to lead investigators to 12 Step indoctrination, brainwashing, and bullying as the cause of death.  And he must know that.  He does know that.  He's admitted it did exactly that to him in Monica Richardson's recent documentary The 13th Step (now at Cannes – good luck Monica!).
Interestingly, Maia Svalavitz exhibits a similar schizophrenia: she claims to be an addict but used drugs longer than she wanted only because she was tricked by her boyfriend that stopping would require a 'tough love' program.  And she exposed the abusive 'troubled teen' drug treatment industry and revealed that many of the children in the programs had never even touched drugs or alcohol so couldn't possibly be addicts.  And yet she still insists that drug addiction is a 'learning disorder'.   Now remember, this is the country's leading neuroscience journalist.
(And Stanton Peele is similarly schizo, another outspoken AA critic who attests to treating many people who were abused and bullied and nearly killed in the cult.  But if you point that out to him he cries, "No more! Go away!"  meanwhile ignoring the blatant suicide bullying of other commenters going on right in front of his face.  And yes your tax dollars paid for his license.)
Well if you can figure all this out please let me know.  Yes I know I am psycho paranoid delusional and brain damaged and yada yada.  And 'the still suffering alcoholic' and 'opiate addiction crisis and we must do something' and 'the problem of the jews' and yada yada.  I mean, other than that.
But oh yeah, please call the CDC first, we might have a bit of a public health crisis on our hands.