The young Jews of Never Again Action say that they must block streets and federal buildings because "We tried everything and nothing worked." This is a lie. They never tried the most basic tactic: free speech.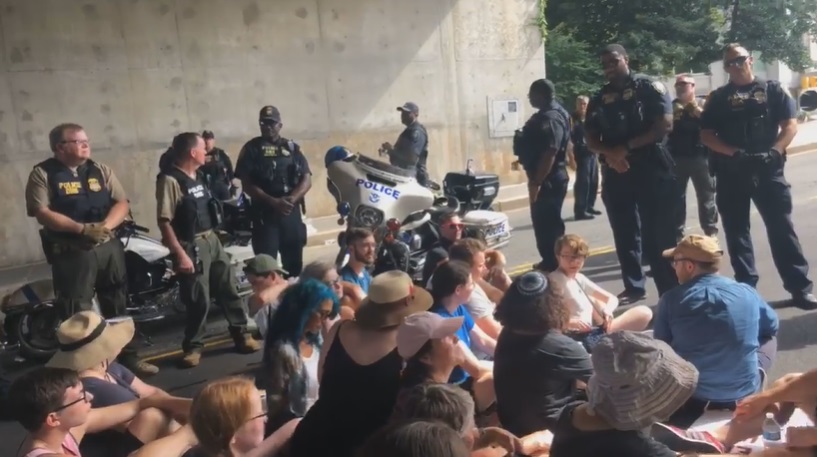 Instead they immediately block all fascists and even anyone who expresses a whiff of dissent. If you suggest that civil disobedience is misguided in this case, they will cry, "Bootlicker!" They will hurl endless abuse and insults, following by blocking. Here's the problem: If you block people online and then block their street or federal building to demand they listen to you, you will end up in the concentration camps you are protesting. Americans are good people, patient and tolerant, but there is a limit. You have to at least try to talk to the opposition before you insist that they are irrational zombies bent on your destruction.
The whole point of America is that we can speak out without getting arrested. This is why the country was created in the first place, and why free speech is baked into the Constitution. These protesters are betraying the values that formed this country and made it great, and that a million brave Americans fought and died for.
Never Again Action is actually a cult. This is obvious from the videos of them reciting speeches and chanting brainlessly. Their core doctrine is: "Anyone who disagrees with us is a fascist arguing in bad faith and we must block them." As a result they radicalize in their echo chamber and have no way to know they've gone off the rails.
How did it get so bad? In large part this is because of the Holocaust indoctrination these kids received in Hebrew School. They were taught, "Fascists are irrational and will surely destroy you. The only way to fight them is with force." However this is terrible advice. I fight fascists every day online. It requires intellect, perseverance and bravery. But it works. You wear them down over time. But if you think the only way is to fight them in the real world, then they will win. Because force is their game.
Trump trolled these kids brilliantly by accusing the AOC squad of 'antisemitism'. An activist responded: "Donald Trump and Republican leaders only like Jews as long as we are their human shields. As long as we are the excuse for their evil." This only emboldened them and confirmed the righteousness of their cause. But America will not stand behind them. Even their own party will disavow them.
Why are these kids so self destructive? In fact in many cases Zionists are cynically radicalizing them to get them into trouble (because they are anti-Zionist). I see many such cases on twitter. When I try to warn these kids about the danger of an arrest record (you can't get a job or rent an apt), the Zionists (and crypto-fascists) will jump in and say that it's no big deal, and "It's a good thing John Brown didn't worry about an arrest record." We are sacrificing our own children to molech again. It's an abomination.